Apartments in Jesolo Lido: the most convenient offers!
Do you love spending your vacation by the sea in tranquility and feeling like home?
You will find the best and most discounted prices for rentals of apartments in Jesolo in our incredible last minute offers not only during the summer but in several periods of the year.
Let you be guided from our last minute offers for residences, apartments, and villas and book your low cost holiday in Jesolo!
Where to sleep in Jesolo?
It is a seaside city situated in the northern part of the Adriatic shore, famous in Italy for the numerous beachparties and disco clubs.
The beach of Jesolo is 15 Km long, located between the mouth of the river Sile and the mouth of the river Piave. It is divided into 4 areas: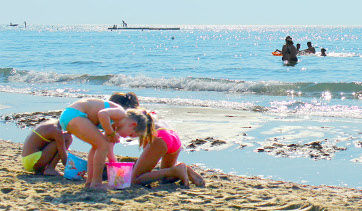 You can find the best solutions for you at the lowest price and enjoy your last minute holiday by the beach at the top.
The apartments for rent are ideal for people that need peace and the possibility to organize the day on the beach by its own terms and time.
In the last few years, many residential areas of Jesolo have been expanded and renovated: new elegant and quality residences with pool have been built and thought for hosting families with children.
For who loves waking up watching the sunrise on the sea, on lastminutejesolo.com you can find many residences with pool at a convenient price and seafront apartments at a low price, in order to choose based on your needs: studio apartment, 2-rooms flat, 3-rooms flat, 4-rooms apartment, with terrace, balcony or private garden.
The beach services are guarantee of quality to both families and youth: playground for kids, animation by the beach, fitness in the water.
During the week, a lot of excursions are organized, such as boat trips in the lagoon of Venice or tours on the Pirateboat in the middle of the sea.
Not far from the coast, are located numerous floating platforms that are reachable by swimming or by pedalò, which are the ideal for who wants to try some diving in the sea.
The activities proposed by the city of Jesolo are numerous for your last minute holiday by the beach.

Choose the low cost residence or accommodation for rent that better meets your needs and wishes, and contact the facility: the best price is guaranteed!