Where to sleep in Jesolo East side
Are you looking for an accommodation for your family at discounted prices?
The hotels of Jesolo Lido offer all comforts at a great value for money.
Discover the best Jesolo East cheap aparthotels near to the beach or seafront or hotels with pool! Contact directly the hotel to book your low cost holiday.
By the sea with the family
Leaving piazza Marconi and Piazza Drago, with its large pedestrian shopping boulevard, you can reach piazza Milano and Piazza Torino. The hotels of Lido di Jesolo East are ideal for families with children.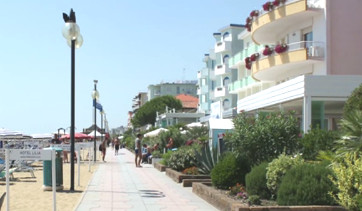 You will find 2 stars hotels, 3 stars hotels and 4 stars hotels, choosing based on your needs of comfort and budget.
Cheap hotels in Piazza Milano and Piazza Torino guarantee quality services such as beach service, private parking, full board or half board service, wi-fi, air conditioning, swimming pool, garden and much more.
Close to the bathhouse Oro Beach, one of the best known of the entire Jesolo's coast, is located the hospital of the city.
Music events and cultural exhibitions make your beach holiday unique and unforgettable at any time of the year. You just have to book the seafront hotel, the aparthotel with swimming pool or an accomodation near the sea that meets your wishes.
Contact the hotel directly and book your last minute holiday in Jesolo for the best price.