The best hotels in the pinewood
Are you looking for a hotel in the green or an aparthotel near the sea?
We have the best last minute hotel deals in Jesolo Pineta to let you book your cheap seaside holiday.
You can find 2 star hotels, 3 star hotels, 4 star hotels, 5 star hotels and hotel residences for families with children.
Contact directly the hotel and book now your low cost vacation.
A holiday of wellness and relaxation
Leaving behind Piazza Milano and Piazza Torino, continuing along Viale Oriente that crosses the Pineta of Jesolo it is possible to reach the mouth of the River Piave.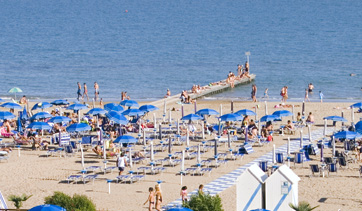 It is an area of Jesolo's beach famous not only for the beauty of nature but also for the many sea festivals of Cortellazzo that animate the summer evenings.
There are several friendly and fully comforted hotels with direct beach access, Wi-Fi, private parking, swimming pool for adults and children, half board or full board service.
Convenient hotels offer to their guests a last minute holiday in Jesolo Pineta with great discounts and with no extra charges.
The coast of Cortellazzo is famous not only for the free beach but especially because of the many restaurants where you can taste the best fish dishes. Various gourmet events are organized to enjoy fish-based menus and the flavors of the tradition of the Adriatic Sea and Italy.
The hotels in Cortellazzo guarantee quality and wellness for your stay at the beach. Contact the hotel directly: do not miss the super last minute deals in hotel in Jesolo Pineta.