Best offers for holiday home in Jesolo West
Are you looking for residence and apartments for rent in Jesolo West?
We have the best deals for a cheap and relaxing holiday.
You can choose between seafront apartments or near to the beach, residence with pool, terraced houses and other private houses and rentals in the areas of Piazza Marina, Piazza Nember and Piazza Aurora.
Wellness and comfort for your relax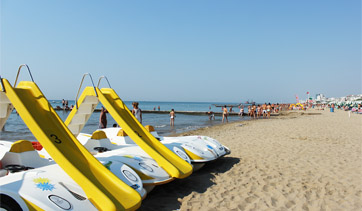 Whether you go on holiday with your friends or with your family, we offer many unbeatable opportunities and the greatest discounted prices.
The offered accomodation provide quality services to enjoy your rest and relaxation, far away from the chaos and fatigue of work.
In recent years, the rental houses in Jesolo, near to the center and shops increased:
row house with private garden and pool;
single, modern and elegant villas;
seafront apartment with terrace;
residence with swimming pool surrounded by green;
private rental accommodation;
holiday home.
The flats in Jesolo's famous squares (Piazza Marina, Piazza Aurora or Piazza Nember) consists of a kitchen, a living room, a bedroom and a balcony or a private garden. Many flats in residence or apartment building have private parking, garage or covered parking place, children's and adult swimming pool, washing machine, dishwasher, microwave oven, air conditioning and free Wi-Fi.
Near Piazza Marina, you will find "Aqualandia", the number one Water Theme Park in Italy. It is like a Caribbean island on an area of approximately 80,000 square meters in the heart of Jesolo, featuring swimming pools with slides and many other attractions for young people and children.
During the entire year, it is possible to take advantage of excursions by boat to the islands of Venice starting from Punta Sabbioni: a must-see tour!

Choose from our best and cheapest deals with very discounted prices to enjoy your last minute holiday in Jesolo.
Apartments for rent, terraced house, sea view residence or cheap accommodations to find the best solution to spend your vacation at the sea.