What to do during the holiday in Jesolo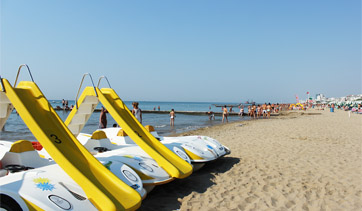 Lido di Jesolo offers a world of opportunities to make your beach holiday unique and unforgettable, due to the event-calendar full of spectacular events that match the best and cheapest deals.
If you would like to train also during your summer holidays, there are several well-equipped gym and facilities along the coast, ideal for practicing different sports:
Pista azzurra for lovers of speed on karts and supermoto;
Sailing school, for those who want to learn the basics of boating and sailing;
Water sport center, for those who are looking for adventures in the open sea;
Golf club Jesolo, immersed in a green and quiet landscape and located just a few steps from the sea;
Play village, the meeting place for lovers of traditional sports.
It's a town full of attractions, events, things to see and to explore.
Discover the best and cheapest last minute offers in Lido di Jesolo! Save your money by contacting directly the hotel or the residence that best suits your wishes.
Not only sport!
Relaxing under the sun, reading a nice book, spending time with your children, far away from work and stress, taking a dip in the sea are some of the opportunities you can choose to enjoy during the holiday with your family.
Cycling in Jesolo is perfect for those who love exploring the city and the valleys of the lagoon of Venice. There are many bicycle rental shops but also many hotels are equipped to satisfy the needs of their cyclotourism lovers guests.
Jesolo's via Bafile is not only famous for the delicious ice-cream with varied tastes, but for the delicious dishes offered by the numerous restaurants, the "Made in Italy" shops and the various clubs for young people also, the ideal for spending your summer nights.
You can decide to book your low cost accommodation by choosing between discounted prices, accomodation seafront or near to the beach in different categories and typologies:
Studio/one-room apartment, 1 bedroom apartments, 3 room flats with 2 bedrooms and four-roomed accomodation, with balcony or private garden;
Residence with swimming pool;
Modern terraced houses;
Holiday homes;
2 stars hotels, 3 stars hotels and 4 stars hotels.
Discover the best and cheapest special offers and book your Jesolo holiday, saving money with the best value for quality!