Low cost holidays in Jesolo: Tips and Offers!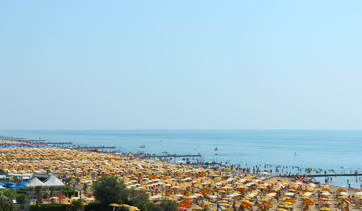 It is one of the most popular italian seaside resorts, loved by Italian and foreign tourists.
The 15 km long coastline stretches from the mouth of the river Piave to the lighthouse and the mouth of the river Sile.
The beach, made of fine-grained golden sand, is rich in facilities equipped for quality service, entertainment for children and activities for adult.
During the summer, Jesolo organizes music shows, sports events, beach parties and many other fun opportunities to transform your vacation with family or friends in unique and unforgettable experience.
Do not miss the winter events: sand Nativity, New Year's Eve, Carnival party and much more.
You can decide to book your stay by the sea at the best price and according to your category preferences, location and comfort in apartments, hotels and camping.
A sea to discover
Jesolo's beach facilities are managed by several consortium that guarantee relaxation and comfort for your days at the beach. Qualified and friendly workers will welcome you at arrival and will answer all your requests.
Here are some of the services you can enjoy during the summer season:
Sun umbrella, deck chairs and sun beds, ideal for the relaxation under the sun;
Toilet services suitable also for disabled;
Cabins for deposit of toys and beach materials;
Special care and attention for disabled;
Free wi-fi;
Fitness area;
Children's playground;
Beach animation;
Water sports courses;
Bars and kiosks;
Emergency service.
The beach services ensure comfort and wellness for your rest. Within walking distance from the sea, you can find several accommodations in Jesolo for the best and cheapest last minute prices for your holidays: apartments, residences, hotels and aparthotels.
Contact directly the accomodation that meets your wishes: saving is guaranteed!