Jesolo accessible to everyone!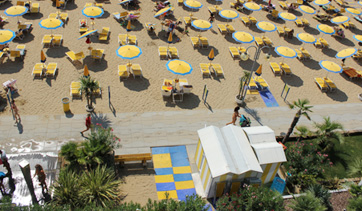 Many times you are looking for the best budget hotel, a residence with swimming pool or a seafront hotel with the best price for your holiday.
Beach parties, gourmet events, shows, Miss Italia, music, shopping and much fun, is what makes your stay in Jesolo, located close to Venice, unique and unforgettable.
In this seaside resort of the northern Adriatic, everything is easily accessible:
Discounted prices in hotel and residence;
Quality services;
Accessibility for the disabled;
The long shore of Jesolo attracts every year tourists from different parts of the world, with different nationalities and cultures.
It becomes a beloved destination not only for the clean sea and the fine and golden sand, but for the culture and art that can be found near the city of Venice.
Quality and comfort for your holiday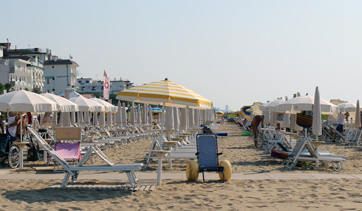 Jesolo's bathing establishments offer quality services to anyone wishing to spend a relaxing holiday on the seaside, taking advantage of the many deals with last-minute offers in apartments or hotels.
Along the sandy shore, large walkways are installed to make easier the access to the beach for the disabled, eliminating architectural barriers. In addition, special wheelchairs are available for the use on the sand.
Jesolo's waterfront is easily accessible both for families with young children and for people with motor disturbances.
Many hotel and residential facilities are equipped to guarantee quality services, and offer low cost packages or last minute deals in Jesolo.
You can safely bring your dog on holiday as in many 2 star hotels, 3 star hotels and 4 star hotels pets are allowed. In addition, also many apartments and residence in Jesolo guarantee access to dogs.

All you have to do is to find out in which hotel, aparthotel, condo,or flat to book your holiday and depart with your family or friends.